The effects of smoke damage in your business
7/25/2023 (Permalink)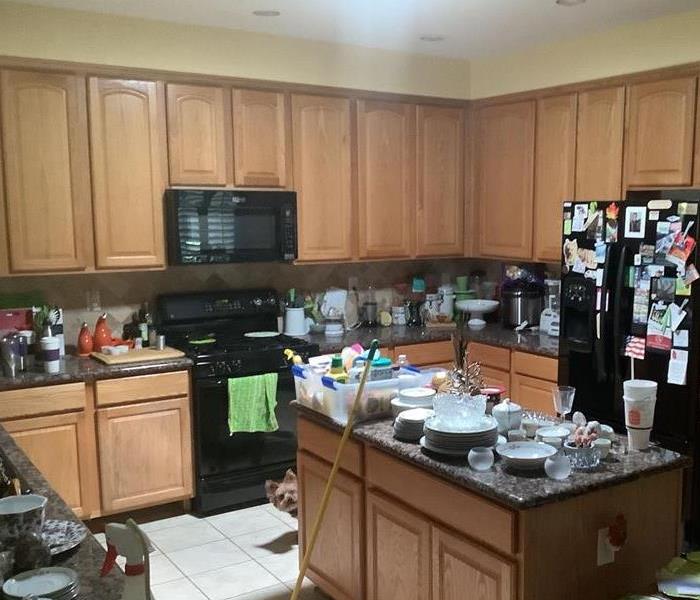 Smoke Damage to your home or business in East Dallas can bring a smell that won't go away unless treated correctly.
Smoke damage can have significant and far-reaching consequences for your business. When a fire occurs, smoke can spread quickly throughout the building, infiltrating every nook and cranny. The severity of smoke damage depends on the size of the fire, the type of materials burned, and the amount of time it took to extinguish the flames. Here are some ways smoke damage can impact your business:
1. Property and asset damage: Smoke can cause discoloration, staining, and etching on walls, ceilings, floors, furniture, and equipment. It can leave a strong, lingering odor that is challenging to remove without proper cleaning and restoration.
2. Business interruption: Dealing with smoke damage may require your business to close temporarily for cleanup and restoration. This interruption can result in lost revenue, missed opportunities, and potential customer dissatisfaction.
3. Health hazards: Smoke contains harmful toxins and particles that can pose health risks to employees and customers. Prolonged exposure to smoke residue can lead to respiratory issues, allergies, and other health problems.
4. Inventory and stock damage: Smoke can contaminate inventory and products, rendering them unsellable. This can lead to financial losses and affect your ability to meet customer demands.
5. Data and electronics damage: Smoke can damage electronic equipment, computers, and data storage devices, potentially leading to data loss and operational disruptions.
6. Insurance costs: Smoke damage claims can lead to increased insurance premiums, especially if your business is prone to fire-related incidents.
7. Reputation damage: A fire incident and its aftermath, including smoke damage, can negatively impact your business's reputation. Customers may be hesitant to patronize your establishment due to safety concerns or the perception of a poorly maintained environment.
8. Compliance and regulatory issues: Smoke damage may result in violations of health and safety regulations, potentially leading to fines or legal liabilities.
9. Employee morale and productivity: Dealing with the aftermath of a fire and smoke damage can be emotionally and physically draining for employees, affecting their morale and productivity.
To minimize the impact of smoke damage on your business, it's crucial to take immediate action after a fire:
1. Contact a professional fire restoration company to assess the extent of the damage and develop a comprehensive cleanup and restoration plan.
2. Work with your insurance provider to file a smoke damage claim and understand the coverage and reimbursement process.
3. Ensure the safety of employees and customers by having the building inspected for potential hazards.
4. Document the damage with photos and detailed notes, as this will be useful for insurance purposes and future reference.
5. Communicate with employees, customers, suppliers, and other stakeholders about the situation and your plan for recovery.
Remember, smoke damage requires specialized cleaning techniques and equipment to fully remediate. Seeking professional help ensures the restoration process is done efficiently and effectively, helping your business get back on its feet as soon as possible.